From Mamma's Kitchen with Love!
Italian Recipes
Ciao!
This website is your discovery and gateway to authentic and traditional Italian recipes. Straight from mamma's kitchen!
Mammas-Italian-Recipes.com will allow you to peek into the kitchen of an Italian-American household where you will find fast, easy and oh so delicious Italian meals. They are the same wonderful meals that have graced my family's tables and filled our hearts with joy for so many years.
Delicious recipes made with just the right ingredients, all sprinkled over with the best ingredient of all…...lots of love!
So come on in, grab a glass of wine and welcome to the family. Before you know it, you'll be cooking just like mamma.
Mangiamo!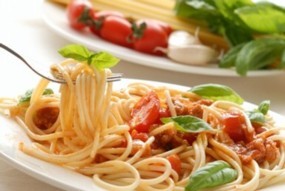 For even more Italian recipes, cooking tips and all things Italian, subscribe to my upcoming monthly newsletter
That's Italian!
The first newsletter for true Italian food lovers,
That's Italian!
is packed with info and you'll get my
FREE '5 Family Favorites' e-book
just for signing up!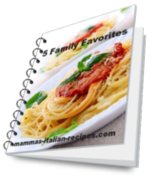 Get Facebook Buttons
Every great meal begins with a great appetizer! These Italian appetizer recipes are some of our favorites.
These delicious Italian Salad recipes have been prepared in Mamma's kitchen for many years. Refreshing, fulfilling and bursting with flavor, these salads are a great compliment to any meal.
There is nothing like great Italian soup recipes to warm your heart and feed your soul, especially on a cold winter's day.
In most Italian households, pasta is the food of choice. Here are some of my family's favorite Italian pasta recipes.
Italian beef recipes are quite varied, and you'll find something fit for every occasion!
Chicken is a dinnertime favorite in my family and these easy Italian chicken recipes will make the ordinary taste mouthwatering.
These Italian seafood recipes have been a big part of my family's traditions for as long as I can remember.
These Italian bread recipes are well worth the effort. Imagine the smell of fresh homemade Italian bread baking in your oven.
These Italian dessert recipes will no doubt put the finishing touch on any one of these fabulous meals.
Mamma's SiteSearch
I love Italian food. When you think of "Italian" one thinks immediately of great food. Food and family has always been the Italian way! Something I know quite a bit about!
Feel free to contact me and let me know how I am doing. This website is a continuous work in progress and ALL feedback is welcome.
Welcome to Uncle Tony's Online Deli where you can find the finest Imported Italian Food. Here you will find some of the freshest ingredients and products to help you prepare your favorite Italian meal
Would you like to share your knowledge about italian recipes? Great, find out how you can submit your story or tip here.