Mamma's Italian Pasta Recipes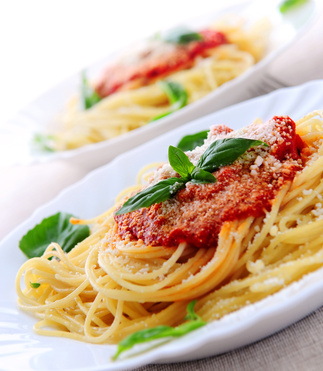 My family's personal favorites, these Italian pasta recipes are easy, flavorful and will bring a smile to anyone's face. Not to mention have them coming back for seconds!
An Italian tradition for centuries, pasta is clearly the food of choice for most Italian families and is usually served with every meal. In my family, we could eat it every day and never get tired of it.
Past down from generation to generation, my family's Italian pasta recipes have been refined and perfected giving you nothing but the very best.
Very important! There should be no short cuts when cooking pasta dishes. Only the finest and freshest ingredients should be used at all times. My grandmothers wouldn't have it any other way and neither would mamma. So that goes for you too!
Pasta Pasta!
Pasta comes in all shapes and sizes, textures and flavors. From your favorite spaghetti to manicotti, there are many varieties to choose from. There's pasta for everyone!
Pasta is made from a simple combination of flour and water. Pre-packaged specialty pasta often includes spices, cheese or added coloring from spinach, tomatoes or food dye.
Under Italian law, dry pasta can only be made from durum wheat flour or durum wheat semolina. Durum flour and durum semolina have a yellow tinge in color. This is what you should look for when buying from a supermarket or specialty shop.
Italian pasta is traditionally cooked al dente (Italian: "to the tooth", meaning not too soft). But you can cook it any way you like. I like it kind of in between!
So get ready to explore and celebrate the wonderful pasta recipes within these pages. Your family and friends will love them!
Lets go to the kitchen and see what mamma's cooking up now! Don't forget your apron!

Italian Marinara Sauce

Broccoli Rabe & Sausage

Marinara Sauce with Sausage

Penne Ai Tre Formaggi

Pasta with Sausage and Beans

Spaghetti Aglio Olio

Sunday Sauce

Italian Lasagna

Three Cheese Manicotti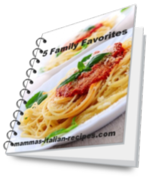 For even more Italian recipes, cooking tips and all things Italian, subscribe to my upcoming monthly newsletter That's Italian! The first newsletter for true Italian food lovers, That's Italian! is packed with info and you'll get my FREE '5 Family Favorites' e-book just for signing up!
Leave Mamma's Italian Pasta Recipes and return to Mamma's Italian Recipes Homepage