Easy Italian Recipes
Penne Ai Tre Formaggi
---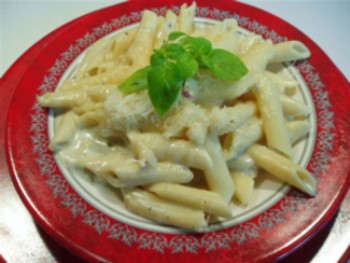 ---
If you are looking for easy Italian recipes then this is the perfect dish for you. It's the perfect fit for busy eaters on a budget too. Penne ai tre formaggi is rich in flavor and texture and very easy to make.
It probably wouldn't be something you would serve during the holidays, and it isn't exactly gourmet fare, but pasta and cheese is one of the most popular--if not the most popular--American comfort foods. Nearly every food cookbook has recipes for this American favorite, with few differences from one to the next.
Well, this one is different because it's Italian! :) The mixture of gorgonzola, mascarpone and parmesan cheeses will have you going "Mmmmmmmm" with every bite. It's a winning combination!
Serve it to the kids and they will love it too. After all, how many kids do you know that don't like macaroni and cheese? They will be asking for seconds. I promise!
This pasta recipe is great with just a side salad. Even better with a nice Chardonnay!

Ingredients:
1 pound of penne macaroni
4 oz. Gorgonzola cheese
4 oz. Mascarpone cheese
½ cup Heavy cream
Fresh ground pepper to taste
Grated parmesan cheese
Preparation:
Cook pasta. While pasta is cooking, in a large skillet combine gorgonzola, mascarpone and heavy cream and cook over medium heat, stirring constantly, until cheeses melt and the sauce is creamy. Season with pepper to taste.
Drain pasta and put in large bowl. Add sauce and toss until pasta is well coated. Sprinkle some parmesan cheese on top and serve. Makes 4 serving. Enjoy!
Leave Mamma's Easy Italian recipes Penne Ai Tre Formaggi and return to Italian Pasta Recipes

Leave Mamma's Easy Italian recipes Penne Ai Tre Formaggi and return to Mamma's Italian Recipes Homepage