Mamma's Manicotti Recipe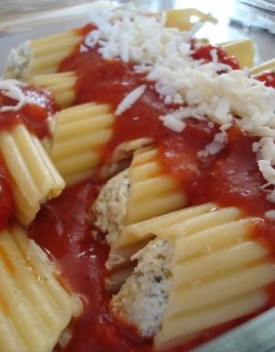 This traditional manicotti recipe is so simple to make and taste out of this world. You and your family will love it!
I can remember waking up Sunday mornings and smelling the pasta sauce cooking on the stove. I would look so forward to dinner time. It was even more exciting knowing there was manicotti baking in the oven.
A delicious baked pasta recipe with a blend of three creamy cheeses, this dish is great anytime. There are many variations of this recipe but I am certain you will like this one the best.
Grab your apron and let's get cooking!

Ingredients:
2 eggs - beaten
2 15 oz. tubs ricotta cheese - low-fat okay
2 cups shredded mozzarella cheese - low-fat okay
1 cup grated Parmesan cheese
1 tsp. parsley flakes
1 tsp. garlic salt
1/4 tsp. black pepper
28 oz. jar spaghetti sauce
8 - 12 oz. box of manicotti tubes
1 tsp. olive oil

Preparation:
Combine eggs, ricotta, mozzarella, 3/4 cup Parmesan, and seasonings in bowl; set aside.
Spread 1/4 cup of the spaghetti sauce in bottom of 13" X 9" baking dish.
Prepare pasta according to package directions; drain and toss with oil.
Using a pastry bag or plastic zip-loc bag with a corner cut out, squeeze pipe cheese mixture into each tube, filling completely.
Arrange manicotti in the dish; do not overlap. Use an additional pan, if needed.
Pour remaining sauce over manicotti. Sprinkle remaining Parmesan cheese over sauce.
Bake uncovered in a 350 degree oven for 30 minutes.
Note: For Spinach & Cheese Stuffed Shells or Florentine Manicotti, thaw and drain the liquid from a 10 oz. pkg. frozen chopped spinach; add to the cheese mixture.




Leave Mamma's Manicotti Recipe and return to Italian Pasta Recipes

Leave Mamma's Manicotti Recipe and return to Mamma's Italian Recipes Homepage