Broccoli Rabe and Sausage Recipe
---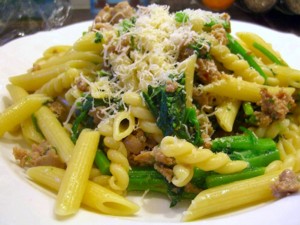 ---
If you like Broccoli Rabe and you love sausage; this is the dish for you. This is one of my favorite dishes; in fact mamma makes it often when I visit. With a nice glass of white wine and some tasty Italian bread, you and your guests are in for a real treat.
The important thing about this recipe is that the bitter flavor of this healthy green may not be to some people's liking. A good tip is to boil the broccoli first, then drain and sauté it.
Enjoy!
Ingredients:
2-3 heads of broccoli rabe
1 lb. of Rigatoni pasta (or pasta of your choice)
4-5 links of sweet Italian sausage (average size) 2-3 large
6-8 cloves of garlic
Vegetable oil
One 14 oz can/jar of sliced mushrooms
Hot pepper flakes
Preparation:
In a frying pan, add just enough oil to cover the bottom of the pan (not too heavy). Fully cook sausage on medium/low heat for about ½ hour or so, turning occasionally. When done put aside to cool, then cut sausage links into ¼ inch thick small circular slices. Cut up broccoli and put in a colander to rinse (you only want the leaves, broccoli heads and a little bit of the stems). Put in a large pot, fill with water and bring to a boil. Once water boils, cook for about 10 minutes (you don't want the broccoli to get too soft). When done, drain and put aside.
In another pot, bring water to a boil and cook rigatoni. While pasta is cooking, in a large frying pan add 1 ½ cups of vegetable oil and cook on low heat. Cut garlic into thin slivers and add to oil with hot pepper flakes. Sauté until lightly browned. Next add mushrooms (drained of all water) and cook with garlic for about 2 minutes, stirring occasionally. Then add broccoli and sausage, mix all together and cook for about 3 minutes more.
When the pasta is done, drain and place in a medium to large serving platter. Take the entire broccoli and sausage mixture from frying pan and pour over hot pasta. Sprinkle on some grated parmesan cheese and serve.
Makes 4 servings.




Leave Broccoli Rabe & Sausage Recipe and return to Italian Pasta Recipes

Leave Broccoli Rabe & Sausage Recipe and return to Mamma's Italian Recipes Homepage