Mamma's Sunday Sauce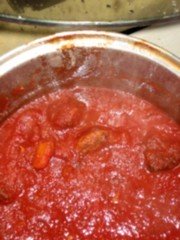 Sunday sauce or "gravy" as some would say, is the very essence of Italian-American eating. When it comes to Italian cooking recipes, this is probably the most traditional.
There are many creative varieties and every family has their own unique recipe. No two Sunday sauce recipes are the same. This sauce is typically simmered for hours and contains everything but the kitchen sink!
Traditionally, the whole family would gather at "Mom's house" for a Sunday afternoon meal any non-Italian would call a "feast." This classic meal would include several types of meat braised in tomato sauce. First, each plate of pasta would be served. The meats would follow, accompanied by salad and bread.
Much more than just a feast, it was a time for families to get together and share stories, laughs, misfortunes, the ups and downs of everyday life. It was a chance for them to stay connected and to celebrate their lives and the abundance they had found in America.
This Sunday sauce recipe is very dear to my heart and by far the most meaningful. If you were to ask me what my best memory is growing up as an Italian-American, Mamma's Sunday Sauce would top my list. For me, it represents more than just a meal. It represents tradition, family values and the true comforts of home.
Let the feast begin….grab your wooden spoon!

Makes 6-8 servings

Ingredients:
Sauce:
1 28 oz. can crushed tomatoes
1 28 oz. can of tomato puree
1 small 6 oz. can tomato paste
1 medium onion
Basil
1 Bay leaf
Salt & Pepper
2 cloves garlic
Grated parmesan cheese
2 Tblsp olive oil
Meats:
1 lb. of sirloin or ground round chop meat (for the meatballs)
6 links of Italian sausage (sweet or hot)
1 or 2 pieces of beef braciole
1 small London broil (optional)

Preparation:
The meats:
You can find the meat for the beef braciole in any supermarket, Italian specialty market or your local butcher. You can often buy it already seasoned and rolled. Just need to brown it and drop right in the sauce.
If you buy braciole meat at the butcher, have them pound it so it's flattened. If you buy it at the grocery store, you will have to pound it yourself. Lay out the pounded beef and spread over with 2 cloves of chopped garlic, some salt & pepper, about 1 tablespoon of parsley (either fresh chopped or dried) and top it off with some grated parmesan cheese, enough to cover over the meat. Roll the meat and tie with thread on both ends. Some people use tooth picks, whichever you prefer as long as the meat is secured tightly. Lightly brown the braciole using either the microwave (with a browning dish) or in a frying pan, using a little bit of olive oil. After the meat is browned, using the same pan, lightly brown your sausage. If you are adding London broil, cut into 4-5 small chunks and lightly brown as well. Set all meats aside on a plate lined with paper towel. It helps to absorb some of the excess fat.
The Sauce:
Chop onion & garlic and add to a large pot, lightly brown in olive oil over medium heat. Add entire can of tomato paste (scoop out with spoon) then fill can with water and stir into garlic & onions. Add to the pot crushed tomatoes and tomato puree. Fill each large can with water and add to pot as well. Season with salt & pepper, 1-2 bay leaves and basil (cover the whole top of sauce with basil). Stir well! Then add your meats to the sauce.
While the sauce is cooking, prepare your meatballs. You can brown them first but Mamma just rolls them and drops them right into the sauce. They are delicious either way!
1 lb. of sirloin or round chop meat
2 cloves chopped garlic
2 eggs
1 cup breadcrumbs (plain)
½ tspn each Salt & Pepper
¼ cup chopped fresh parsley
1 cup grated cheese
1 teaspoon of vegetable oil

In a large bowl add meat, eggs, chopped garlic, salt, pepper, parsley, grated cheese, vegetable oil, and bread crumbs. Mix all together with clean hands. Roll into medium size balls and drop directly into tomato sauce. If the meatballs are not firm when rolling, add a little more breadcrumb to the mix.
After adding the meatballs to the sauce, simmer for about 2-2 ½ hours on low heat, stirring gently every so often. The longer you cook your sauce, the tender the meat.
When your Sunday sauce is almost done, cook 1 pound of rigatoni or pasta of your choice. While the pasta is cooking, transfer the meats to a platter and set aside. When the pasta is ready, drain well and fix your plates. Pour sauce over pasta; sprinkle over with grated Parmigiano-Reggiano or Pecorino Romano cheese.
Don't forget to remove the thread or toothpicks from the braciole!!!
Mangia bene!




Leave Mamma's Sunday Sauce Recipe and return to Italian Pasta Recipes

Leave Mamma's Sunday Sauce Recipe and return to Mamma's Italian Recipes Homepage