Italian Meatball Recipe
---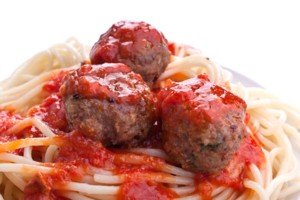 ---
As far as I am concerned, this is the best Italian meatball recipe! They are so simple to make and so delicious. It's hard to eat just one! I know I'm good for at least two or three.
In Italy, meatballs are known as "polpette" and are generally eaten as a main course or in a soup. Most people usually use beef and or pork and sometimes turkey. Whichever you prefer!
Rolling the meatballs by hand is the fun part! Usually, Mamma rolls them to about the size of a golf ball but you can make them any size you want. Let the kids help roll them too. They will have a blast! Just be prepared.....your kitchen may get a little messy!
Whether its spaghetti and meatballs or with Mamma's Sunday sauce, my family goes crazy for meatballs. They can also be pre-made and then frozen, so you can just pull them out of the freezer and cook them whenever you like.
Try this recipe and I am certain that your family will become meatball lovers too!
Enjoy!

Ingredients:
1 lb. of sirloin or round chop meat
2 cloves chopped garlic
2 eggs
1 cup breadcrumbs (plain)
½ tspn each Salt & Pepper
¼ cup chopped fresh parsley
1 cup grated cheese
1 teaspoon of vegetable oil
Preparation:
In a large bowl add meat, eggs, chopped garlic, salt, pepper, parsley, grated cheese, vegetable oil, and bread crumbs. Mix all together with clean hands. If the meatballs are not firm when rolling, add a little more breadcrumb to the mix.
Roll into medium size balls and either fry in a pan with a little bit of oil, bake in a 350 degree oven for about 25 minutes or drop directly into tomato sauce, let simmer at least 40 minutes and cook through. No matter how you cook them, delicious!




Leave Mamma's Italian Meatball Recipe and return to Italian Beef Recipes

Leave Mamma's Italian Meatball Recipe and return to Mamma's Italian Recipes Homepage