Spaghetti Recipes
Spaghetti Aglio Olio
---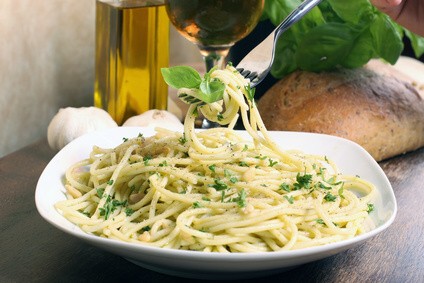 ---
One of the most simple yet delicious spaghetti recipes I ever came across. This is a family favorite and one of many passed down from my nanny Emma. What a great cook and an amazing woman!
In my family, this is a traditional side dish served at our Christmas Eve dinner. Even with all the fish we eat, we still have to make room for some pasta. It's an Italian thing!
The key to this recipe is the garlic, olive oil, and anchovies. Yes, anchovies! They are essential for the flavoring of this dish so if you don't like them, just push them off to the side while eating.
Get ready for a real treat and enjoy!
Ingredients:
1 box of spaghetti
Olive oil about 1 ½ cups
Garlic about 10 cloves
Anchovies 2 cans (flat)
Salt & pepper (to taste)
This serves about 4 people (When making for more people, double everything)
Preparation:
Boil water and cook spaghetti. While the spaghetti is cooking, lightly brown peeled garlic cloves in oil using a small pot. When the garlic is nice and golden brown, take off heat and add anchovies and stir, set aside.
When the spaghetti is done, empty the water but leave about ¼ of water in the pot with the spaghetti. Add to the spaghetti about 1 ½ cups of olive oil, garlic & anchovies and mix all together. Place all contents in a deep dish platter, top off with grated parmesan cheese and serve.
Make sure you scoop up a little extra juice when making each plate. Mamma mia! You'll want some fresh Italian bread for dipping.




Leave Mamma's Spaghetti recipes and return to Italian Pasta Recipes

Leave Mamma's Spaghetti recipes and return to Mamma's Italian Recipes Homepage