Italian Marinara Sauce
---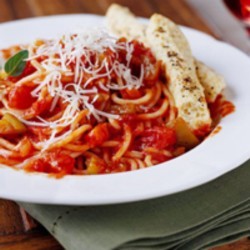 ---
Italian marinara sauce (mariner's) sauce is an Italian red sauce usually made with tomatoes, garlic, herbs (such as basil), and onion. However, there are many variations. Some of these include the addition of capers, olives and spices.
Traditional Italian cuisine utilizes this sauce to add flavor to pasta, rice, seafood and pizza. However, in recent years, Americans have found use for it as a dipping sauce for other foods as well. Italians refer to marinara only in association with other recipes. For instance, spaghetti alla marinara literally translates to mariner's spaghetti.
This recipe is a fast dish to make and tastes so good! If you are short on time but don't want to compromise quality and taste, this is the perfect dish for you.
If you are really short on time (and who isn't nowadays), you don't even have to heat up the sauce if you'd like. Just pour over piping hot spaghetti and serve. Either way, this spaghetti sauce recipe is delicioso!
Ingredients:
Two 28 ounce cans of whole tomatoes in puree
6-8 cloves garlic

½ cup parsley (dried or fresh chopped)
1 tsp each salt & pepper
1 Tbls oregano
1 lb of spaghetti
¼ cup extra virgin olive oil
Preparation:
In a pot, add tomatoes and mush to a pulp with clean hands or a fork. If using your hands, squeeze each tomato real good between your fingers. Add salt & pepper (you can use crushed red pepper flakes if you like), parsley, oregano, olive oil & chopped garlic.
Stir and heat for about 5 minutes until hot. In a separate pot, cook spaghetti al dente or however you like it. When ready, drain and spoon tomato sauce over the spaghetti, sprinkle some grated cheese on top and serve.
Leave Mamma's Italian Marinara Sauce and return to Italian Pasta Recipes

Leave Mamma's Italian Marinara Sauce and return to Mamma's Italian Recipes homepage