Italian Lasagna Recipe
---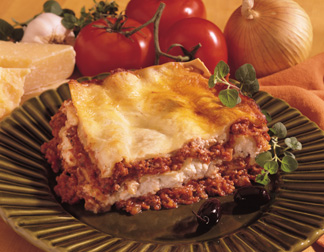 ---
This is without a doubt my favorite Italian lasagna recipe ever! If you are looking for authentic and traditional lasagna, your search is over!
Lasagna is one of the most popular Italian dishes in the world and is so delicious. Serve this dish and it will soon become a family favorite for years to come.
This Italian lasagna recipe will require a little work but I can assure you, it will be well worth the effort!
Serve with warm garlic bread and your favorite red wine. Molto delicioso!



Ingredients:
3/4 lb sweet Italian sausage links (or hot)
1 lb lean ground beef
1/2 cup finely chopped onion
2 garlic cloves, crushed
1 (28 ounce) can crushed tomatoes
2 (6 ounce) cans tomato paste
2 (6 1/2 ounce) cans canned tomato sauce
1/2 cup water
2 tablespoons sugar
1 1/2 teaspoons dried basil leaves
1 tablespoon salt
1/2 teaspoon fennel seed
1/4 teaspoon ground black pepper
4 tablespoons chopped fresh parsley
12 lasagna noodles
16 ounces ricotta cheese
1 egg
1/2 teaspoon salt
3/4 lb mozzarella cheese, sliced
3/4 cup grated parmesan cheese
Preparation:
In a Dutch oven or large wide sauce pan, cook sausage (remove meat from casings), ground beef, onion, and garlic over medium heat until well browned. Drain and return to pot.
Stir in crushed tomatoes, tomato paste, tomato sauce and water. Season with sugar, basil, fennel seeds, Italian seasoning, 1 tablespoon salt, pepper and 2 tablespoons parsley. Simmer covered for about 1 1/2 hours, stirring occasionally.
Bring a large pot of lightly salted water to a boil. Cook lasagna noodles in boiling water for 8 to 10 minutes. Drain noodles, and rinse with cold water. It's a good idea to dry the noodles on some paper towels.
In a mixing bowl, combine ricotta cheese with egg, remaining parsley, and 1/2 teaspoon salt.
Preheat oven to 375 degrees.
To assemble, spread 1 1/2 cups of meat sauce on the bottom of a 9 x13 inch baking dish. Arrange 6 noodles lengthwise over meat sauce. Spread with one half of the ricotta cheese mixture. Top with a third of mozzarella cheese slices. Spoon 1 1/2 cups meat sauce over mozzarella and sprinkle with 1/4 cup Parmesan cheese. Repeat layers, and top with remaining mozzarella and Parmesan cheese.
Cover with foil: to prevent sticking, either spray foil with cooking spray, or make sure the foil does not touch the cheese. Bake in preheated oven for 25 minutes. Remove foil, and bake an additional 15 -20 minutes. Cool for 15-20 minutes before serving.




Leave Mamma's Italian Lasagna Recipe and return to Italian Pasta Recipes

Leave Mamma's Italian Lasagna Recipe and return to Mamma's Italian Recipes Homepage