Pasta with Sausage and Beans
---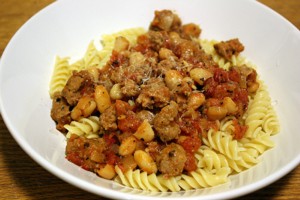 ---
Mamma loves to surprise us with this pasta with sausage and beans dish. The heavenly smell of oven roasted garlic will have you ready to eat in no time.
The sausage is cooked without the skins and broken into small pieces giving you a taste of sweet sausage with every forkful. Tossed together with pasta and beans, it's the perfect combination.
Imagine your family and guests sitting with fork in hand waiting for dinner to be served. You will be the talk of the town!
Mangiamo!
Ingredients:
1 head of garlic, left whole, plus 2 garlic cloves thinly sliced
2 tbles. Olive oil
1/2 lb. of fresh sweet Italian sausage, casings discarded
1/2 cup thinly sliced shallot
1/8 tsp. dried hot red pepper flakes
1 (14 oz.) can diced tomatoes
1 (15 - 19 oz.) can small white beans, drained and rinsed
2 cups chicken stock broth
1 lb. med. shells or rotini (corkscrew) macaroni
1/4 cup chopped fresh leaf parsley or dry chopped parsley
1/4 cup of fresh basil or dry basil
1/2 cup finely grated pecorino Romano or Locatelli cheese
Preparation:
Pre heat oven to 400 degrees.
Cut off and discard top of garlic head to expose cloves. Then wrap head in foil & roast in oven until cloves are tender (about 45 mins). Open foil carefully & cool till warm. Squeeze garlic from skins into a small bowl, then mash to a paste with a fork.
In a 12 inch heavy skillet, heat oil over medium heat until hot. Then cook sausage without casings stirring and breaking large pieces until browned (about 4-5 mins). Add sliced garlic, shallot and red pepper flakes and cook, stirring occasionally, until shallot is pale golden color (about 2 mins). Stir in tomatoes, beans, garlic paste and stock and simmer uncovered, stirring occasionally, until slightly thickened and reduced by half (about 15-20 mins).
Meanwhile, cook macaroni until al dente, drain. Toss pasta with sausage mix, parsley, basil and cheese. Add salt to taste. Serve with additional grated cheese if desired. Serves 4.




Leave Pasta with Sausage and Beans recipe and return to Italian Pasta Recipes

Leave Pasta with Sausage and Beans recipe and return to Mamma's Italian Recipes Homepage