Baccala Salad Recipe
---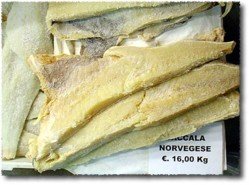 ---
A traditional Christmas Eve dish in many Italian homes, this Baccala Salad Recipe is truly a cultural experience.
Baccala is simply salted cod fish. Well-cooked baccala is a delight to eat: Firm, slightly chewy, and not at all fishy in flavor.
Since it is salted, all baccala requires soaking before it can be used. Italian delicatessens sell pre-soaked baccala on Fridays, but some people prefer to buy it and soak it themselves…it's cheaper! Salted baccala comes 1/2 to 1-inch thick, in 3 to 6-inch wide slats that are 12 to 18 inches long (7-15 by 30-45 cm), and are white on the flesh side. You should try to select a piece of uniform thickness so it will soak evenly. To prepare it, rinse the salt off and soak it in cold water for 12 or more hours, depending upon its thickness, changing the water 2-3 times daily. Once it has soaked, skin it, pick out the bones, and it's ready for use.
My parents love to go every year to Arthur Ave in the Bronx to pick up the fresh fish for our Christmas Eve dinner. They always make sure to pick out some fresh baccala for the salad. Mamma prefers to buy hers already soaked and processed. Either way it will come out perfect!
Traditions are the foundation of great family memories. I hope you give this recipe a try and celebrate your holiday with this great Italian salad.

Ingredients:
About 3-4 lbs of processed (already soaked) baccalà
About 8-10 large lemons
One can of pitted black olives
One lg. jar of sweet peppers (red & green)
10-12 cloves fresh chopped garlic
Preparation:
Put baccalà in a pot with water and boil for about 20 minutes.
When done, drain and break up in pieces in bowl.
Take olives and slice in half and add to fish.
Add fresh chopped garlic and squeeze about 8 lemons into mixture.
Mix altogether and refrigerate over night so that it marinates well.
The next day mix everything again and you can add more lemon juice if you desire.
This dish is traditional served on Christmas eve.




Leave Mamma's Baccala Salad Recipe and return to Italian Salad Recipes

Leave Mamma's Baccala Salad Recipe and return to Mamma's Italian Recipes Homepage