Mamma's Beef Soup Recipe
---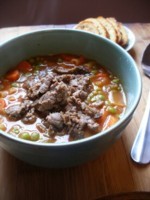 ---
Do you know what you are having for dinner tonight? This wonderful beef soup recipe is very easy to make and has all the ingredients to help "stave off the winter cold".
It's a full flavored, hearty soup that will warm you down to your toes. Its an excellent lunch or dinner time meal, especially with a nice glass of red wine and some crusty Italian bread. Feel free to dip the bread right into the soup.
Make a big batch and freeze some for future meals. There's nothing like delicious leftovers when you are pressed for time and on the go......and who isn't these days!
Tender bite sized chunks of beef and fresh vegetables is a marriage made in heaven. The savory tomato based broth really gives this soup its unique flavor.
I can remember plenty of winter time meals when my brothers and I were digging into this soup. Our heads would be right in the bowl and all you could hear is the clinking of our spoons. We'd come up for an occasional breath of air.
You are going to love this recipe. Eat until your hearts content!

Ingredients:
1 ½ lbs of beef stew meat
1 medium onion (chopped)
3 stalks of celery (chopped)
baby carrots chopped (as many as you desire)
1/4 cup dry parsley flakes
salt & pepper to taste
1 teaspoon dry oregano
1 can of tomato sauce 15 oz.
Preparation:
In a large stock pot, add water and fill until about ¾ full. Cut stew meat into 1 inch cubes and add to water. Bring to a boil then lower heat to medium. Skim off any fat that rises to the surface. Add all remaining ingredients and let cook for 1 ½ hours.



Leave Mamma's Beef Soup Recipe and return to Italian Soup Recipes
Leave Mamma's Beef Soup Recipe and return to Mamma's Italian Recipes Homepage