Chicken and Artichoke Recipe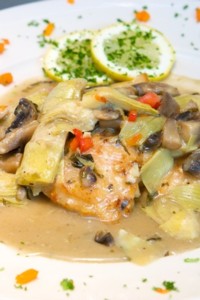 When it comes to simple yet delicious meals, this chicken and artichoke recipe is a winner! I just love artichoke and can eat this dish anytime day or night.
Whether it's a small gathering with your family or a large party with the aunts and uncles, this dish will surely be a fan favorite. My sister in-law made this dish for my nephew's communion party and it was a hit.
Be sure to leave some bread aside to soak up the dressing. Enjoy!
Ingredients:
One package of thick chicken cutlets (about 3-4)
One small crate of fresh mushrooms
Two 12oz. jars of marinated artichoke hearts
One small 8oz. jar of Italian salad dressing
Salt & pepper
Seasoned breadcrumbs
2 eggs
Vegetable oil
One 16 1/8 x 11 3/4 aluminum roasting pan or one 13 1/4 x 9 5/8 lasagna pan

Preparation:
Serves 4
Cut chicken cutlets into nugget size pieces. In a small bowl scramble eggs. In another bowl, add seasoned breadcrumbs. Dip each chicken piece in egg and then into breadcrumbs until fully covered, set aside.
In a medium size frying pan, heat vegetable oil on medium/low heat. Add enough oil to lightly cover bottom of pan. Cook chicken, turning occasionally until golden brown. Adjust heat as necessary.
When done, put chicken pieces into a baking pan, add mushrooms, a little salt & pepper, marinated artichoke hearts and salad dressing. Mix altogether and put in preheated 400 degree oven for about ½ hour, then serve.
This is a great dish for parties! Just double or triple the ingredients, depending on the amount of people you will be serving.
Leave Chicken and Artichoke Recipe and return to Italian Chicken Recipes

Leave Chicken and Artichoke Recipe and return to Mamma's Italian Recipes Homepage