Chicken Marsala
---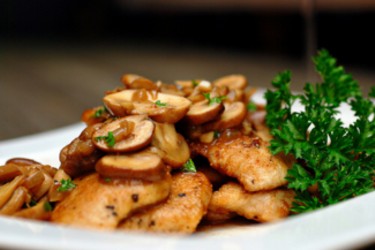 ---
Chicken Marsala is a classic Italian American meal made with a wine and mushroom sauce. The meal's name originates from the particular wine, Marsala, used to create the sauce.
Marsala is produced in Sicily, Italy and is one of the country's most famous wines. It comes in two types, sweet and dry. You can use either one, but the sweet version offers a bit more depth and a rounder finish to the flavor.
This recipe shows you how to easily create this elegant and tasty dish right in your own home. I have no doubt that it will become a family favorite in no time. You will love the addition of the prosciutto which makes this recipe so unique and incredibly delicious.
This dish is excellent served with anything from pasta, to rice, to grilled potatoes.
Enjoy this traditional Italian classic!

Ingredients:
4 boneless, skinless chicken breasts, pounded to ¼ inch thickness
1 cup flour
1 Tbsp olive oil
2 oz. prosciutto, sliced into thin strips
8 oz. Sliced cremini mushrooms (portobello and shiitake mushrooms work great too)
¾ cup marsala wine
¾ cup low-sodium chicken broth
¼ cup chopped fresh parsley
Salt and pepper to taste

Preparation:
Season each breast with a pinch of salt and pepper. Place the flour in a shallow bowl, add the chicken, and coat the pieces evenly, shaking off any excess flour.
Heat the oil using medium heat in a large non stick pan or cast iron skillet. Add the chicken, making sure to not over crowd the pan and cook for 3 to 4 minutes a side until breasts are golden brown on the outside and cooked all the way through. Set aside on a serving platter and keep warm.
Add more oil to the pan if needed, and sauté the prosciutto for 1 to 2 minutes until it starts to crisp up. Add the mushrooms and continue sautéing until they are well browned.
Stir in the marsala and chicken broth, scraping up any brown bits stuck to the bottom of the pan. Cook until the liquid has reduced to about ½ cup. Season the sauce with salt and pepper, and add parsley. Pour the sauce over the chicken and enjoy!
Yummy!
Makes 4 servings




Leave Mamma's Chicken Marsala Recipe and return to Italian Chicken Recipes

Leave Mamma's Chicken Marsala Recipe and return to Mamma's Italian Recipes homepage