Chicken Parmesan
---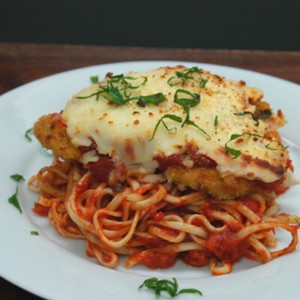 ---
This is a great recipe for Chicken Parmesan and it's been a family favorite for years. Just the sight of mozzarella cheese bubbling on top of the chicken is enough to make your mouth water.
This dish is best served with a nice plate of spaghetti, garlic bread and a tossed salad. Throw a bottle of red wine on the table for the adults and your all set.
Whatever you decide, this recipe is easy to prepare and is sure to please. You'll be making it over and over again. The kids will love it!
Enjoy!

Ingredients:
• 4 boneless chicken breasts, pounded to 1/2 inch thickness
• 1 egg
• 1/2 cup milk
• seasoned bread crumbs
• 2 to 3 tablespoons olive oil
• 8 slices mozzarella cheese, or more
• 1 jar (16 oz) spaghetti sauce
• Parmesan cheese
Preparation:
Whisk together the egg and milk. Dip the chicken breasts in milk and egg mixture and then in bread crumbs. Heat olive oil in a large skillet over medium-high heat. Brown the chicken in the hot oil on both sides until golden, about 5 to 6 minutes on each side. Drain on top of a paper towel when done to soak up the excess oil.
Set chicken in a baking dish (pour a little sauce on the bottom first).
Slice 8 pieces of mozzarella cheese and put two on each chicken breast. Pour the rest of your favorite spaghetti sauce over all. Sprinkle with Parmesan cheese and a little more mozzarella and bake at 350° for about 25 to 30 minutes, or until bubbly.
Serve with spaghetti, garlic bread and a nice tossed salad.
Leave Mamma's Chicken Parmesan Recipe and return to Italian Chicken Recipes

Leave Mamma's Chicken Parmesan Recipe and return to Mamma's Italian Recipes Homepage