Crispy Parmesan Chicken
---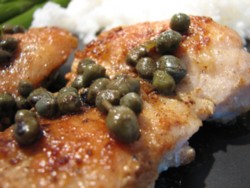 ---
This crispy parmesan chicken recipe is real simple to make and incredibly tasty. My family prefers this dish to the ordinary breaded chicken cutlet. In my opinion, it doesn't even compare.
This recipe highlights one of my favorite casual meals. With a recipe this easy and results so tasty, you'll never have to go out for chicken again.
Pour yourself a glass of your favorite white wine and enjoy!
Ingredients:
2 boneless, skinless chicken breasts, 6 oz each
1 cup of plain breadcrumbs
2 Tbsp grated Parmesan cheese
½ Tbsp dried Italian seasoning
2 egg whites
Salt and pepper
½ Tbsp olive oil
1 ½ Tbsp butter
2 Tbsp capers
½ Tbsp Dijon mustard
Juice of 1 lemon
2 Tbsp fresh parsley, chopped
Preparation:
Cover chicken with parchment paper or plastic wrap and pound until ¼ in thick. It will make the chicken thinner and very tender.
Combine the crumbs, Parmesan cheese, and Italian seasoning in a wide bowl. In another bowl, beat the egg whites slightly. Season the chicken with salt and pepper and dip each breast into the egg whites and then into the crumb mixture, pressing to make sure it's evenly coated.
Heat the oil on medium heat in a large skillet. Add the breasts and cook for 3 to 4 minutes or until the crusts are deeply browned and crunchy. Turn them over and cook for another 2 to 3 minutes. Then remove and set aside. While the pan is still hot, add the butter. When the butter is lightly browned, stir in the capers, mustard, and lemon juice. Scrape up any browned bits. Turn off the heat and add the parsley. This is your sauce. Serve the chicken breasts with the sauce drizzled on top. This meal goes great with a side of spinach sautéed with garlic.
Makes 2 servings. Enjoy!




Leave Mamma's Crispy Parmesan Chicken recipe and return to Italian Chicken Recipes

Leave Mamma's Crispy Parmesan Chicken recipe and return to Mamma's Italian Recipes Homepage