Aunt Lu Lu's Eggplant Parmesan
---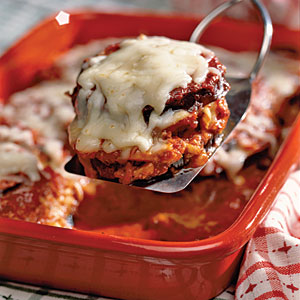 ---
When it comes to eggplant parmesan recipes this one is hard to beat. My Aunt Lu Lu has been making this for years and it just keeps getting better and better. I can remember many family gatherings where everyone would be waiting in line just to grab a plate full. I can tell you one thing, I made sure I grabbed some before it was all gone!
One of the keys to this recipe is to let the eggplant slices sit for about 6-8 hours or overnight, on a covered dish, before preparing the eggplant for frying. This removes any excess moisture from the eggplants.
Whether as a side dish, on a fresh seeded roll or all by itself, this recipe is great anytime of year. If you want to prepare a delightful meal for your family and friends, this eggplant parmesan recipe gets my recommendation.
You'll have them lined up in no time!
Mangia bene!

Ingredients:
2 Large Eggplants, 6 Eggs, 1 Cup Milk, Unseasoned Bread Crumbs, Mazola Oil, 1 Large Polly-O Whole Milk Mozzarella, 2 Tbsp Salt, 2 Tbsp Pepper, 2 Tbsp Paprika, A Cup or so of Locatelli Grated Cheese, Tomato Sauce of your liking (we use our Sunday Sauce)
Equipment:
1 Aluminum Lasagna Pan, One 12" Frying Pan, 1 Cheese Grater, 1 Large Bowl, Sharp Knife or Electric Slicer, and 2 Plates, 1 for the Egg Mixture and 1 for the Bread Crumbs
Procedure: Preparing the Eggplant for Batter
Remove skin from eggplants, slice eggplants lengthwise into 1/8" slices, place slices onto a dish in layers. When completed, cover the slices with another dish (inverted). Place a heavy object on top of the dish (like a phone book). Leave it like this for 6 to 8 hrs or overnight. This removes excess moisture from the eggplants.
Procedure: Preparing Eggplant for Frying
In a bowl mix the eggs, milk, salt, pepper, and paprika. Pour some bead crumbs onto a dish. Dredge eggplant slices through the egg mixture then place into the bread crumbs. Shake off excess bread crumbs and place the battered slices onto another dish. When completed, you are ready to fry the eggplant.
Procedure: Frying the Slices
Pour 3 cups of oil into frying pan and heat over a medium flame. When oil is hot, fry slices until both sides are golden brown. Remove slices and place on a paper towel covered plate. Place more paper towels with each layer of fried slices. When this is completed you can prepare the parmesan or store in the refrigerator until the next day, or you can eat them just fried.
Procedure: Preparing the Parmesan
Grate the Mozzarella. In the lasagna pan spread a layer of tomato sauce over the bottom, place a layer of the eggplant slices over the sauce, cover the slices with a layer of the grated mozzarella, sprinkle pepper and grated cheese over slices, cover with a layer of tomato sauce, this process is repeated for each layer of eggplant slices.
Place in a preheated oven at 350 degrees for 35 to 45 minutes until all the cheese is melted. Let cool until warm and then serve. I like it best the next day when everything is settled and all the flavors have melded together. Boun Appetito!




Leave Eggplant parmesan recipe and return to Italian Appetizer Recipes

Leave Eggplant Parmesan Recipe and return to Mamma's Italian Recipes Homepage