Italian Antipasto Salad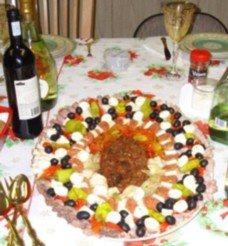 When it comes to Italian antipasto salad, this one is hard to beat!
If you really want to impress family and friends, put this out on the table and see what happens. Truly, it's a meal all by itself.
If you ask anyone in my family, I am certain they would say that this is our "family treasure". We all look so forward to eating it and no holiday would be complete without it. With all the different meats, cheeses, olives etc....you won't know where to begin!
Mamma really enjoys serving it around the holidays and really puts a lot of time and effort into making it just right. My uncle Tony enjoys preparing it too and likes to add his own creative touch. It's all in the presentation!
This Italian antipasto salad is for large gatherings but can be scaled down for smaller gatherings as well. Just cut back on the amounts of meats, cheeses, etc. Try not to eat too much and don't forget the Italian bread. It's a must!
Are you ready to create a masterpiece of your own?
Let's get creative!

Ingredients:
1/2 lb. genoa salami
1/2 lb. boiled ham
1/2 lb. ham capicola (cappy)
1 stick of hard pepperoni
1 chunk of sharp provolone cheese
3-4 7oz. cans of eggplant appetizer (caponata) Cento or Alessi brands (do not drain)
2 12 oz. jars of roasted marinated peppers (drained)
1 14 oz. can of black pitted olives (drained)
1 10oz. jar of spanish green olives or use pitted (drained)
1 12oz. jar of marinated mushrooms (drained)
2-3 6oz. jars of marinated artichoke hearts (drained)

Preparation:
Basically….be creative as you'd like.
Mamma prefers to roll the slices of salami, boiled ham and cappy into thin rolls and place them around the outer edge of a very large platter, leaving the middle bare.
Then, in the middle of platter she puts the eggplant caponata and surrounds it with the roasted red peppers (if peppers are big slice them).
Cut up the provolone cheese into medium size chunks and slice up the hard pepperoni. Creatively place all around the entire platter. Keep going and add the marinated mushrooms, artichoke hearts and olives. Again, be creative as you'd like. After all, it's your masterpiece.
Cover with aluminum foil and refrigerate till ready to serve. You're going to enjoy this….I promise!
Leave Mamma's Italian Antipasto Salad and return to Italian Salad Recipes

Leave Mamma's Italian Antipasto Salad and return to Mamma's Italian Recipes Homepage