Italian Beef Braciole
---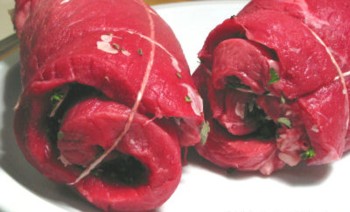 ---
Italian Beef Braciole is one of my favorite foods. The meat is very flavorful and so tender that it just melts in your mouth.
There are many different recipes out there and I have tasted some very interesting variations. This is a simple recipe that Mamma has been cooking for years and our family just loves it.

You can find the meat for the braciole in any supermarket, Italian specialty market or your local butcher.
Season, roll and drop it in the sauce. It's that easy! Just be sure to remove the Butcher's twine or toothpicks before eating. You don't want any surprises!
Mangiamo!

Ingredients:
1 or 2 pieces of beef braciole (or flank steak)
2 cloves of chopped garlic
Salt and pepper
1 tablespoon parsley (either fresh chopped or dried)
Grated parmesan cheese
2 tablespoons of olive oil
**Optional (sliced prosciutto and provolone cheese)

Preparation:
If you buy braciole meat at the butcher, have them pound it so it's flattened. If you buy it at the grocery store, you will have to pound it yourself.
Lay out the pounded beef and spread over with 2 cloves of chopped garlic, some salt & pepper, about 1 tablespoon of parsley (either fresh chopped or dried) and top it off with some grated parmesan cheese, enough to cover over the meat. Add sliced prosciutto and sliced provolone cheese for a heartier meal.
Roll the meat and tie with Butcher's twine on both ends. Some people use tooth picks, whichever you prefer as long as the meat is secured tightly. Lightly brown the braciole using either the microwave (with a browning dish) or in a frying pan, using a little bit of olive oil. Make sure to brown on all sides. Place in your pasta sauce and let cook until tender, around 1 ½ hours.




Leave Mamma's Italian Beef Braciole recipe and return to Italian Beef Recipes

Leave Mamma's Italian Beef Braciole recipe and return to Mamma's Italian Recipes Homepage