Italian Braised Beef with Red Wine Sauce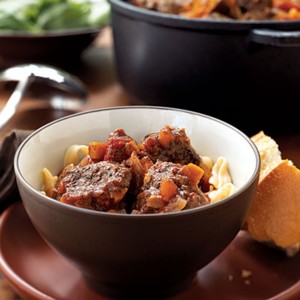 This Italian Braised Beef with Red Wine Sauce is an amazing and hearty meal that will satisfy any appetite. Just writing this recipe has me salivating already!
Braising is a classic technique Italians use for cooking tough cuts of meat. This recipe is typical of the traditional tomato based sauce of Bologna.
One of the best ways to enhance the flavor of a dish is to add wine. Only use wines that you would typically drink and avoid using "cooking wines" from a supermarket. We only use the good stuff here!
Tasty tender beef, wine, and a creamy tomato based vegetable sauce makes this Italian Braised beef with Red Wine Sauce
an instant Italian classic. Serve with cooked polenta or pasta. Buon appetito!
Ingredients:
4 ounces pancetta, diced
2 tablespoons olive oil
1 2 ½- to 3-pound boneless beef sirloin tip or round roast
2 medium carrots, chopped
1 large onion, chopped
1 medium red pepper, seeded and chopped
½ cup chopped celery
8-10 fresh mushrooms sliced
2 cloves garlic, minced
¾ cup dry red wine
1 28 oz. can Italian whole peeled tomatoes in puree, undrained and cut up
1 tablespoon tomato paste
1 teaspoon dried basil, crushed
¼ teaspoon dried oregano, crushed
1 bay leaf
¼ cup whipping cream
Preparation:
In a 4 to 6 quart Dutch oven, cook pancetta over medium heat until crisp. Remove pancetta and set aside. Reserve any drippings in pan. Add olive oil to pan. Add meat and brown on all sides for about 10 minutes. Season meat with salt and pepper to taste. Transfer meat to a plate and reserve drippings in pan.
Add carrots, onion, red pepper, celery, and garlic to the pan. Cook and stir for about 10 minutes or until light brown. Add the red wine, scrapping the bottom of the pan to lift browned bits. Simmer for 1 minute. Stir in undrained tomatoes, tomato paste, basil, and oregano. Return meat to pot and add bay leaf.
Reduce heat to low. Cover and simmer about 1 ½ hours or until beef is tender. Remove beef from pan and let stand while preparing sauce. For the sauce, add mushrooms to the tomato mixture, simmer uncovered for about 12 minutes. Stir in cream, remove bay leaf. Serve beef with sauce. Sprinkle with pancetta.
Makes 6 servings.




Leave Mamma's Italian Braised Beef with Red Wine Sauce and return to Italian Beef Recipes

Leave Mamma's Italian Braised Beef with Red Wine Sauce and return to Mamma's Italian Recipes Homepage