Mamma's Italian Cream Cake Recipe
---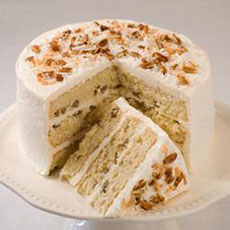 ---
This Italian Cream Cake recipe is an oldie but a goody! My nanny used to make it often for special occasions and has since passed this recipe down to mamma. It has always brought so much joy to our family and we all just love it.
A beautiful three layered cake so decadent on the inside and rich and creamy on the outside, one can't help but smile while eating it. I know I do!
Rich, moist and delicious, each layer is filled with coconut and finely chopped nuts. I will be the first to say that with each mouthful, joy will fill your heart.
This Italian treat is simply irresistible!


Cake:
½ cup of margarine
2 cups of all purpose flour (sifted)
2 cups of white sugar
1 cup of buttermilk
1 cup of sweetened flaked coconut
5 eggs
½ cup of shortening
1 teaspoon of baking soda
1 teaspoon of vanilla extract
1 cup of chopped pecans (or walnuts)
Preheat oven to 350 degrees. Separate eggs and beat whites until stiff, set aside.
Cream together the margarine, shortening and white sugar in a large bowl until light and fluffy. Add egg yolks one at a time, beating well.
Dissolve the baking soda in the buttermilk, then add to the cream mixture along with flour, coconut, pecans and vanilla extract. Beat well.
Fold in stiffly beaten egg whites.
Pour into 3 greased and floured 9-inch round cake pans using approximately 2 cups batter for each pan.
Bake in preheated 350 degree oven for 25-30 minutes. Allow to cool!


Cream Cheese Frosting:
1 package of cream cheese 8 oz.
4 cups of confection sugar
½ cup of margarine
1 teaspoon of almond extract
Combine ingredients and beat well. Spread between layers, on top and sides of cooled cake.
Sprinkle some additional pecans/walnuts on top of the cake and enjoy!




Leave Italian Cream Cake Recipe and return to Italian Dessert Recipes

Leave Italian Cream Cake Recipe and return to Mammas Italian Recipes Homepage