Italian Wedding Soup
---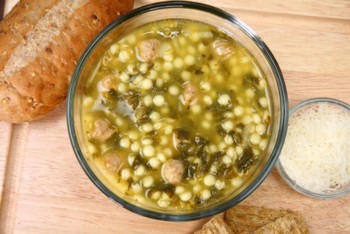 ---
It's very hard to trace the origins of Italian wedding soup and when exactly this soup, a variant of minestrone with meatballs, was first connected to weddings.
The term "wedding soup" is a mistranslation of the Italian language, minestra maritata ("married soup"), which is a reference to the fact that green vegetables and meats go well together. The "perfect" marriage!
Its ingredients and style may date back to the Romans, but its name may be much newer. Today, you'll find some Italian families in the US who insist the soup is traditional at weddings. This may explain why it kept its name in translation over the years. The soup is surely not only for weddings!
Italian wedding soup consists of green vegetables (usually endive and escarole or cabbage, lettuce, kale, and/or spinach) and meats (usually meatballs and/or sausage) in a clear chicken-based broth. Wedding soup sometimes contains pasta, noodles, cavatelli, lentils, or shredded chicken.
Whether you plan to serve it at a wedding, or simply enjoy its marriage of flavors, the soup always remains delicious.
Grab your spoon, sprinkle on some grated parmesan cheese and get ready to enjoy a traditional Italian wedding soup. Don't forget to kiss the bride!

Ingredients:
1 package of chicken thighs (8) skinned
1 medium onion chopped
1/2 teaspoon of salt
1/2 teaspoon of pepper (or to taste)
2 tablespoons of chopped dry parsley
6 packets of MBT chicken broth
3 stalks of celery (chopped)
3 carrots peeled and cut in small pieces or use baby carrots already peeled, and cut into round pieces
1 package of frozen chopped spinach (thawed and drained of excess water)
1 lb. of pasta (Ditalini, small shells, or noodles)

Meatballs:
1/4 lb. chopped sirloin beef
1 clove of chopped garlic
a sprinkle of salt
a sprinkle of pepper
plain bread crumbs 1/2 cup
grated parmasean cheese 1/2 cup
1 tablespoon parsley
1 egg

Preparation:
Poach (boil) chicken thighs in a pot of water for about 1/2 hour or until done. Drain then set aside to cool. You can run chicken under cold water or sit them in cold water until you are able to handle them. Pull meat off bone and shred into pieces. Set aside.
In a large pot, fill with water about 3/4 full. Add all soup ingredients, including the shredded chicken pieces and bring water to a boil. Then, lower heat to medium and let cook for about 1 hour. Just before the hour is up, prepare your meatballs.
Meatballs:
Place chop meat in a bowl and add chopped garlic, salt & pepper, egg, parsley, cheese and bread crumbs. With clean hands, mix all together and roll into very small balls (about as round as a dime).
Drop right into soup and let cook for another hour. When the soup is almost done, boil some water to cook your pasta. Drain pasta then add directly to soup. Serve and don't forget to sprinkle on some grated parmesan cheese.




Leave Mamma's Italian Wedding Soup recipe and return to Italian Soup Recipes

Leave Mamma's Italian Wedding Soup recipe and return to Mamma's Italian Recipes Homepage