Lentil Soup
---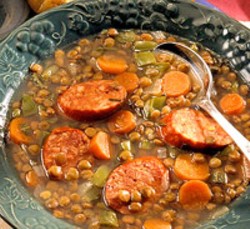 ---
This lentil soup recipe will knock your socks off! Hearty, rich and full of flavor, your family and friends will love every spoonful.
Lentil soup was once a food for the poor. Today, it is recognized as highly nutritious and provides a good source of protein, fiber, iron and potassium.
Just add some Ditalini or elbow macaroni and even the kids will love it. I know my brothers and I loved it when we were growing up. Mamma used to make it often on Friday nights.
Lentils also represent good luck in Italy and are traditionally eaten on New Year's Day, perhaps because they look like little coins, or because they are so abundant. Inexpensive and hearty, this rich soup may help to usher in a prosperous, healthy, and Happy New Year.
So here's to you and yours…..eat well and buona fortuna!

Ingredients:
6 tablespoons extra-virgin olive oil, divided
2 tablespoons chopped garlic (2 cloves)
1 cup fine-diced onions
3/4 cup of diced carrots
1 cup of diced celery
1 cup of V8 vegetable juice
2 cups of whole peeled tomatoes with juice (With sharp kitchen scissors, reach into the can and cut tomatoes into small pieces before measuring)
1/4 cup of "Better than Bouillon" vegetable base and 1 1/2 quarts water, or use 1 1/2 quarts vegetable broth
1 1/2 tablespoons fine chopped fresh thyme
1/4 teaspoon fresh ground black pepper or to taste
1 cup of dried lentils
Preparation:
In a large stock pot (about 5 quarts), heat 2 tablespoons of oil over medium-high heat. Add the garlic and sauté about 2 minutes or just until it begins to brown.
Reduce heat to medium low, add the onions, cover and cook about 2 minutes or just until softened but not brown.
Remove cover; add celery, carrots, V8, tomatoes, broth, thyme and pepper. Bring to a simmer over medium-high heat. Stir in the lentils, reduce the heat, partially cover and cook about 1 hour, or until lentils are very soft.
Stir in the remaining 1/4 cup of extra virgin olive oil to add richness. Makes about 10 cups. Sprinkle with your favorite grated parmesan cheese.
Optional (and recommended):
Ditilini pasta, about 1 cup cooked. Drain pasta and add to soup when soup is done.
3 links of Italian sweet sausage; fry in pan with about 3 tablespoons of oil until done. With paper towel, pat dry to remove excess oil. When cool, cut in small round slices, add to soup and serve.




Leave Mamma's Lentil Soup Recipe and return to Italian Soup Recipes

Leave Mamma's Lentil Soup Recipe and return to Mamma's Italian Recipes Homepage