Mussels Marinara
---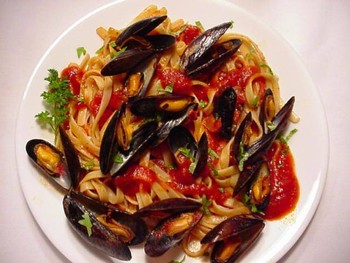 ---
This is a great Mussels Marinara recipe! It can be used as a main dish served with some linguini for the extra sauce, or as an appetizer with good crusty Italian bread to soak up the juices.
This is a fairly easy dish that is served in fine restaurants but you can make it at home all the same. The flavors of this dish remind me of Italy. The deeper you get into this meal the better it gets.
Buon Appetito!

Ingredients:
• 3 tablespoons olive oil
• 1 small white onion, finely chopped
• 4 large cloves garlic, finely chopped
• 1 cup white wine
• 2 to 3 cans chopped plum tomatoes (32 to 48 ounces total)
• 1 tablespoon fresh chopped oregano leaves
• 1 tablespoon fresh chopped parsley leaves
• 4 pounds fresh mussels, de-bearded, scrubbed and rinsed
• Salt and pepper
• 1 tablespoon fresh chopped basil leaves
• Pasta as an accompaniment or Italian bread for dipping

Preparation:
Heat the oil in a large sauté pan over medium heat. Add the onion and garlic and sauté until lightly golden. Add the wine and reduce it by half, then add the plum tomatoes, oregano and parsley. Add the mussels to the pan and allow to cook for about 10 minutes until all the mussels are open. Transfer mussels to a platter. (Discard any mussels that do not open.)
Serve the mussels on top of your favorite pasta or serve it just by itself. Just have some Italian bread ready for dipping into the sauce.
Adjust the seasoning for the sauce with salt and pepper, as necessary. Spoon the sauce all over the mussels and sprinkle with fresh chopped basil just before serving.




Leave Mamma's Mussels Marinara Recipe and return to Italian Appetizer Recipes

Leave Mamma's Mussels Marinara recipe and return to Mamma'a Italian Recipes Homepage