Panettone Bread
(Italian Christmas Bread)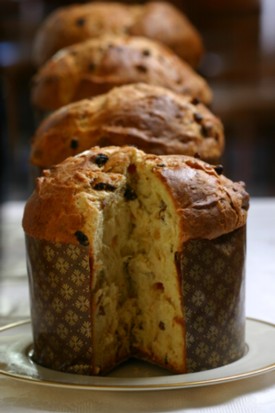 Panettone Bread or better known as "Italian Christmas Bread" is a typical bread of Milan, usually prepared and enjoyed for Christmas and New Year in Italy.
It usually contains candied orange, citron and lemon zest, as well as raisins, which are added dry and not soaked. There are many variations available such as plain or with chocolate. It is typically served in slices, vertically cut, accompanied with sweet hot beverages or a sweet wine, such as Asti Spumante or Moscato d'Asti. In some regions of Italy, it is served with Crema di Mascarpone, a cream made from mascarpone cheese, eggs, sometimes dried or candied fruits, and typically a sweet liqueur such as Amaretto; if mascarpone cheese is unavailable, zabaglione is sometimes used as a substitute.
The holiday season would not be the same if I didn't have at least one slice of Panettone bread. I love it anytime and anyway. My preference is lightly toasted with some butter. So yummy!
We mostly bought it in the past or it was usually given to us as a gift, but Mamma found this great Panettone Bread recipe and we thought it was too good not to share. I am sure you will enjoy it!
Give the gift of food!

Ingredients:
• 1 tablespoon (1 package) active dry yeast
• 1/4 cup warm water (110 to 115 degrees)
• 5 tablespoons butter, softened
• 2 large eggs
• 4 large egg yolks
• 3/4 cup sugar
• 1 tablespoon vanilla extract
• 1/2 cup warm water
• 4 1/2 to 5 cups flour, or more
• 2/3 cup raisins
• 1 tablespoon finely grated orange peel
• 2 teaspoons finely grated lemon peel
• 1/2 cup chopped citron

Preparation:
Dissolve the yeast in the 1/4 cup warm water in a small bowl. Let yeast stand for 10 minutes.
In a large bowl, beat the butter, 2 whole eggs and 4 egg yolks, sugar, vanilla and 1/2 cup water together. Add yeast mixture to the egg mixture and mix well with wooden spoon.
Working with spoon then hands, add the flour about 1 to 1 1/2 cups at a time and mix until a ball of dough is formed, adding as much flour as necessary to make an easy to handle dough. Turn the dough out onto a floured work surface and knead for 5 to 10 minutes, until the dough is smooth and elastic, adding more flour as needed. Place the dough in a lightly buttered bowl; turn to coat completely with butter. Cover with a clean cloth and let rise 6 hours.
Butter and flour a panettone mold or other high-sided mold, at least 6 1/2 to 7 inches tall and 7 to 8 inches wide.
Punch the dough down and turn it out on a floured surface. Flatten dough out with hand; sprinkle with the lemon and orange zest. In a small bowl, mix the raisins and the citron with the 1 tablespoon flour; sprinkle fruit mixture over the dough. Fold the dough in half, press edges to seal. Knead for 5 to 10 minutes or until the pieces of dried fruit are well distributed throughout and dough is smooth. While working with the dough continue to add additional flour as necessary to keep from sticking, without making too stiff. Place dough in the mold, cover with a clean cloth and let rise 30 minutes.
Preheat oven to 400°.
Cut an x in the top of the dough with a very sharp knife. Bake for 5 minutes at 400° then reduce heat to 375° and bake for 10 minutes. Reduce heat to 350° then bake 30 to 35 minutes longer, or until a toothpick, skewer, or cake tester inserted into the center of the bread comes out clean. If the top starts to look to brown, cover loosely with foil. Let cool about 30 minutes on a wire rack; remove from rack and cool completely.
Leave Mamma's Panettone Bread Recipe and return to Italian Bread Recipes

Leave Mamma's Panettone Bread Recipe and return to Mamma's Italian Recipes Homepage