Rice Pudding Recipe
---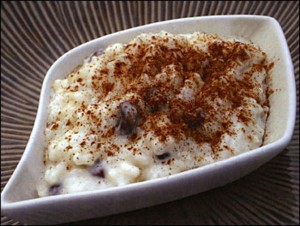 ---
Although not typically an Italian dessert, Mamma has been making this rice pudding recipe for as long as I can remember and we just love it. It's the best recipe I've ever tasted and it gets rave reviews from everyone who eats it.
Traditionally, mamma would make it for summer cook outs and holiday gatherings. I can't remember a summer holiday without Mamma's rice pudding being served. It just wouldn't be the same! We would always look forward to it.
It's a fabulous treat, with its dense creamy texture and cinnamon topping. Just top it off with a little whipped cream and you're all set to go!
Such a delight in summer and great anytime of year, I'm certain your friends and family will love it too!
Yummy!

Ingredients:
1 half gallon whole milk
1 cup of white rice (recommend Carolina)
1 ½ cups of sugar
½ pint of whipped heavy cream
6 eggs
Cinnamon
Preparation:
You will need a 13 x 9 x 3 aluminum pan.
In large pot, pour milk, sugar, rice and heavy cream and stir. Cook on Med-high heat until milk starts to bubble. Watch closely that it doesn't pour over the pot.
Lower heat to medium and cook for about 45 minutes, stirring occasionally.
In a bowl scramble the eggs. Remove rice from heat and pour in the scrambled eggs. Mix thoroughly until the eggs are blended in nicely. Pour into aluminum pan & cover the top of rice completely with cinnamon. Set aside and let cool down, and then put in refrigerator uncovered overnight.
When serving, if you'd like, add a little whipped cream on top.




Leave Mamma's Rice Pudding Recipe and return to Italian Dessert Recipes

Leave Mamma's Rice Pudding Recipe and return to Mamma's Italian Recipes Homepage