Scungilli Marinara Recipe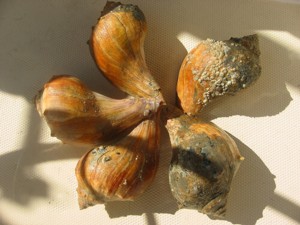 This Scungilli Marinara Recipe is truly a cultural experience. We don't eat it too often but Mamma often prepares it for a holiday spread, especially for the "Feast of the Seven Fishes" on Christmas Eve.
Scungilli are large marine snails, delicacies of the Mediterranean that have been a part of Italian American cuisine for quite some time. Full of such wonderful texture and flavor, its meat is dense, chewy, and quite sweet.
Scungilli can be found fresh in their shells in Italian fish markets, or in many seafood stores removed from their shells and frozen. They are good both ways but Mamma prefers the frozen ones, as they are a lot easier to deal with and the freezing process helps tenderize the meat.
This Scungilli Marinara Recipe can be served as an appetizer or main dish.
Molto delicioso!





Ingredients:
1 ½ pounds frozen scungilli
5 bay leaves
¼ cup extra virgin olive oil
6 cloves garlic, peeled and sliced
1 35 ounce can Italian plum tomatoes (preferably San Marzano) crushed
1 teaspoon crushed hot red pepper
1 teaspoon dried oregano
Salt to taste
1 pound linguine
¼ cup chopped fresh Italian parsley

Preparation:
Defrost the scungilli for several hours in the refrigerator. Place in a large saucepan and pour in enough water to cover them by two fingers. Drop in 3 bay leaves and bring water to a boil over high heat. Adjust the heat to simmering and cook until a fork pierces the scungilli easily and slips right out, about 25-30 minutes. They should be almost but not quite tender. Reserve 2 cups of the cooking liquid and slice scungilli thin.
Make the sauce: heat olive oil in a large skillet over medium heat. Then sauté garlic until golden, about 2 minutes. Add the scungilli and cook, turning pieces frequently, about 4 minutes. Season with some salt.
Pour tomatoes into skillet, and add crushed red pepper, 2 bay leaves and oregano. Bring to a boil and let boil for 10 minutes. Lower heat and let simmer, about 30 minutes until the scungilli are nice and tender. Add the reserved scungilli cooking liquid a little at a time to keep the sauce consistency the same. Watch to not make the sauce too watery.
While the sauce is simmering, bring water to a boil in another pot for the linguine. When the scungilli are tender, reduce heat under the skillet to low. When the linguine is done, drain then return to pot. Ladle in about ¾ of the scungilli sauce. Add parsley and bring sauce to a boil, stirring often. Let sauce simmer, tossing and cooking pasta for an additional 2 minutes or so. Add more salt and crushed red pepper to your liking. Serve immediately. Go ahead and spoon on some of the remaining sauce if you'd like.




Leave Mamma's Scungilli Marinara Recipe and return to Italian Seafood Recipes

Leave Mamma's Scungilli Marinara Recipe and return to Mamma's Italian Recipes Homepage