Shrimp Appetizer Recipe
---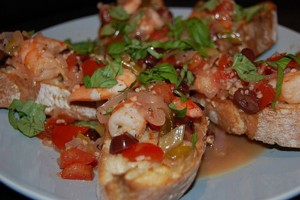 ---
Mamma found this great shrimp appetizer recipe and it's too good not to share.
Great for small gatherings, this first course meal is a winner! Each bite offers a host of flavors that will leave you wanting more. I personally didn't want mine to end.
Next time, impress your family and friends with this shrimp appetizer recipe. You will definitely want this one in your recipe book. I promise!
Ingredients:
6 slices of ciabatta bread
4 tblsp extra-virgin olive oil, divided
18 large shrimp, peeled and deveined
Fresh ground black pepper to taste
8 cloves of garlic, thinly sliced plus 1 clove garlic, halved
2 cups peeled, chopped tomatoes **
¼ cup pitted kalamata or Nicoise olives
2 tblsp drained capers
Juice of 1 lemon
1 ¼ cup white wine
3 tblsp chopped fresh parsley
1 tblsp chopped fresh marjoram
2 tblsp cold butter
1 cup crumbled feta cheese
Salt, to taste
Preparation:
Brush bread slices with 1 tablespoon olive oil and toast under a preheated broiler or in a grill pan over medium heat. Set aside.
Heat 3 tablespoons olive oil in a large sauté pan over medium-high heat. Season shrimp with pepper. Cook shrimp 1 minute per side until both sides are seared. Remove from pan and keep warm.
Add sliced garlic to the pan and cook until it is just starting to turn golden. Add tomatoes, olives, capers and lemon juice; stir to combine. Add white wine and use a wooden spoon to stir up any brown bits from bottom of the pan.
Cook on medium-high heat 10 minutes until most of the pan juices evaporate and the sauce thickens. Return shrimp to pan with parsley and marjoram. Stir to combine and heat until shrimp are cooked through. Remove from heat and add cold butter, one piece at a time, until it is completely incorporated.
Sprinkle in feta cheese and stir so that it melts a little, but not completely. Add salt and pepper as necessary.
Rub toasted ciabatta bread slices with garlic clove halves. Divide the shrimp and its sauce among each slice of bread. Makes 6 servings.
** To peel tomatoes: Drop into a pot of boiling water about 15 seconds. Drain and plunge into ice water to stop cooking. Drain and slip skins from tomatoes.


Leave Mamma's Shrimp Appetizer Recipe and return to Italian Appetizer Recipes

Leave Mamma's Shrimp Appetizer Recipe and return to Mamma's Italian Recipes Homepage