Shrimp Pasta Recipes
Garlic Shrimp with Fettuccine
---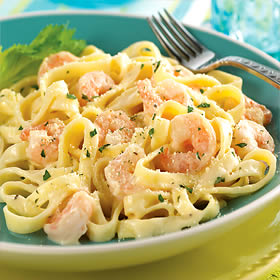 ---
If you are looking for shrimp pasta recipes, you have come to the right place. This Garlic shrimp with fettuccine dish is elegant and surprisingly easy to prepare. The aroma is out of this world! The combination of shrimp, fresh garlic and lemon juice will make this dish a memorable one.
Shrimp and pasta always go good together. They are a match made in heaven! This dish reminds me of one of the best meals I had in Italy while touring with my parents and son. We were dining on the Isle of Capri overlooking the gulf of Naples and I had a great shrimp and pasta dish. It was truly a glorious evening! One that I will never forget.
Good anytime of the year, make sure you add this dish to your favorite seafood recipes. You'll be glad you did.
You will feel like you are dining on the Isle of Capri just like we did. Just take a bite, close your eyes and imagine.....
Mangia bene!

Ingredients:
1 package (12 oz.) fettuccine
1 ½ lbs uncooked medium shrimp – peeled and deveined
½ cup butter
¼ cup minced fresh parsley
2 garlic cloves minced
2 tablespoons lemon juice
2 tablespoons chicken broth
½ teaspoon salt
½ teaspoon pepper
Preparation:
Put up a pot of water to cook the fettuccine. Meanwhile, in a large skillet, sauté shrimp in butter for 4 minutes or until shrimp turn pink. Add parsley, garlic, lemon juice, broth, salt and pepper. Cook and stir for 2 minutes or until garlic is tender. Drain fettuccine, top with shrimp mixture. It makes 6 servings.




Leave Mamma's Shrimp Pasta Recipes and return to Italian Seafood Recipes

Leave Mamma's Shrimp Pasta Recipes and return to Mamma's Italian Recipes Homepage