Linguini with White Clam Sauce
---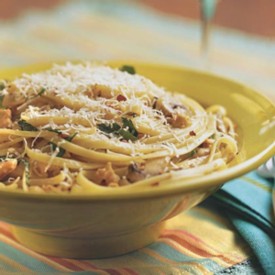 ---
Mamma's linguini with white clam sauce is a simple-to-prepare dish which features succulent clams and linguini in an aromatic sauce. So good!
This recipe has been in my family for many, many years and it's one of my favorite meals. Growing up, Mamma would serve this dish during the week as a nice surprise. The smell of the garlic and the clams is to die for!
I've yet to meet anyone who did not want this recipe after they've tasted it. The ingredients are so simple and inexpensive too! This may not be the most fancy linguini and clam sauce you've ever had but it will be one of the best you've tasted.
Great as a side dish or main meal, this dish will have you thinking you are dining seaside overlooking the Bay of Naples. Just like my ancestors did many years ago.
Serve with your favorite white wine and some warm Italian bread and life is good!
Enjoy!

Ingredients:
2 (6 ounce) cans chopped clams
1/2 cup chopped fresh parsley
2-3 garlic cloves, finely chopped
1/4 cup (1/2 stick) butter
3 tablespoons olive oil
Pinch of oregano
Salt and pepper to taste
16 ounces linguini
Preparation:
In a skillet over medium heat, sauté garlic in olive oil until lightly golden (about 2 minutes). Add the undrained clams, parsley, butter, oregano and bring to a simmer; cook for 5 to 10 minutes.
Cook the linguini in boiling water in a pot; drain. Place the linguini on a warm serving platter; pour the clam sauce over the top.
Season with salt and pepper and serve with grated Parmesan cheese.




Leave Mamma's Linguini with White Clam Sauce and return to Italian Seafood Recipes

Leave Mamma's Linguini with White Clam Sauce and return to Mamma's Italian Recipes Homepage